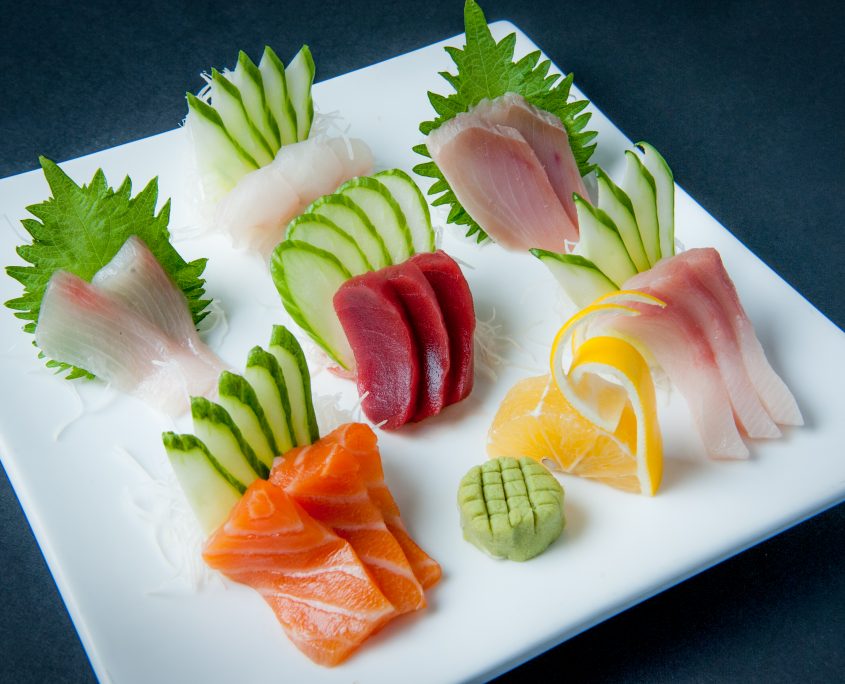 Have you run across sashimi fans who tell you how much they love eating raw fish on a plate and wondered what was so special about it? If you're a sushi fan, chances are you've encountered sashimi at a sushi bar. But what do you know about this distinctly Japanese and very special delicacy? We'd like to share some facts about sashimi so you'll be able to really appreciate it next chance you get to sample it at your favorite Japanese sushi restaurant.
Sashimi is a traditional Japanese dish of carefully selected and sliced raw food. It is mostly served as thinly sliced fresh fish. However, other meats such as beef can also be served as sashimi, although this is rare in authentic Japanese restaurants. Some people confuse sashimi and sushi even though the difference is a simple one: sashimi is a piece of raw fish while sushi is sashimi (raw fish) accompanied by vinegared rice.
Origin of Sashimi
The eating of sashimi can be traced to the 14th century. The term means "pierced body." (The more accurate term would have been Kirimi ("cut body") but the Japanese avoided it so as not to use the word 'Kiri," meaning "cut" which is considered a bad word.) Sashimi eating became popular in the Tokyo region in the 17th century as fishing techniques became more advanced and the arrival of the use of soy sauce helped enhance its flavor and popularize it more widely.  To properly prepare and enjoy sashimi, the fish must be completely fresh in order to retain its delicate flavor and for food safety.
How to eat Sashimi
Most Japanese people are introduced to sashimi at a very young age. Foreigners may, however, take a while to get accustomed to the taste and texture of raw fish. Because it can be an acquired taste, condiments are a common accompaniment to sashimi, even in Japan, enhancing the overall taste experience and reducing the fish taste to only its best and most delicate flavors.
Spearing the fish in the head and tail is a traditional way of identifying the fish that will be served.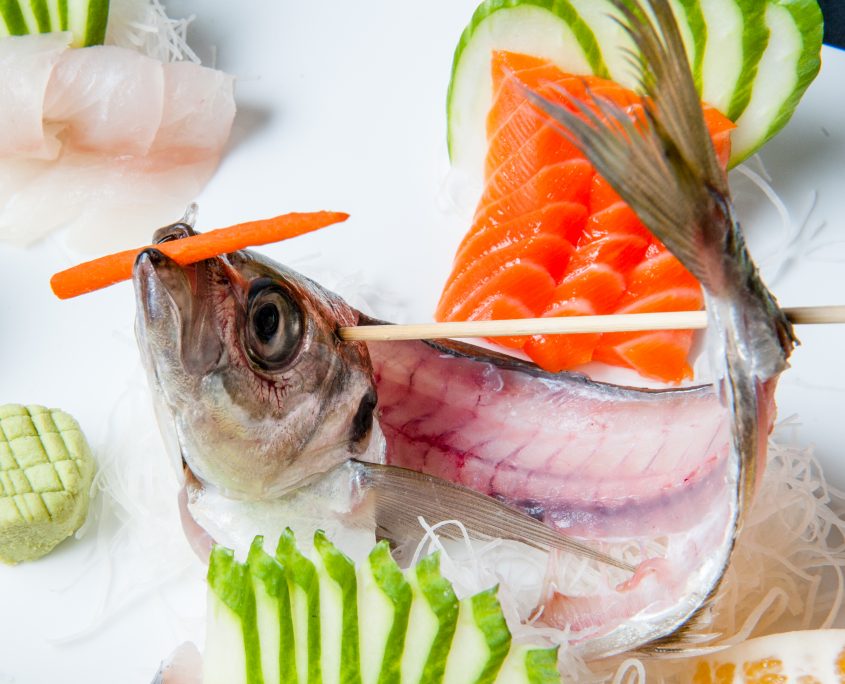 A common garnish is called tsuma, which consists of pieces of perilla leaves, seaweed, and daikon radish. They are usually cut into pretty shapes though they are always eaten together with the sashimi. Other edible wild plants, vegetables, and flowers are also used as garnishes.
Some types of the sashimi are eaten with a bit if horseradish (wasabi) or ground ginger, plums and mustard paste (karashi). The dish is often seasoned with soy sauce in which the diner dips a piece of the meat before eating. It is good practice to take only as much sauce as needed as the flavor may overwhelm the taste of the fish.
Popular types of sashimi
The sashimi served in most Japanese restaurants is purely seafood. Meaning, it is either from fish, roe or other sea animals such as octopus, shrimp, and jellyfish. Some popular types of this delicious Japanese dish are:
Maguro
Maguro is sashimi prepared from tuna. It is on the menu of nearly all restaurants that serve sashimi. The whole fish is edible, but the price of the sashimi dish varies depending on the fat content of each part. The lean, firm, and fleshy red flanks or akami are the cheapest. The most expensive part is the meat from tuna's fatty belly, toro. It is available in two grades based on the fat content, chutoro, which is the medium grade and otoro, the premium grade.
Sake or shake
Shake is salmon-based sashimi and is common in many Japanese restaurants. The delicious bright orange fatty belly is also called salmon toro in many menus.
Tai Sashimi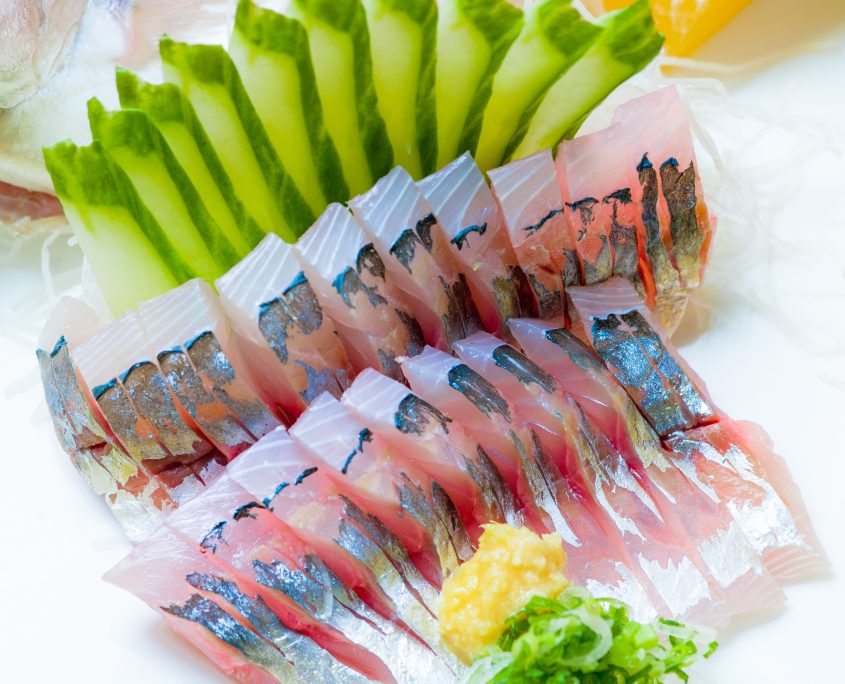 Sea bream or tai, is the best white-fleshed fish in Japan. In sashimi cuisine, tai is often served during celebrations such as New Year's and weddings. To the Japanese, it is symbolic of new beginnings.
Other Popular Types of Sashimi
Other fish that are served as sashimi include mackerel (saba), skipjack tuna or bonito (katsuo), and amberjack (kanpachi). Sashimi is also prepared form squid (ika), shrimp (amaebi), and octopus (tako). The highly prized jellyfish, kurage. is also served as sashimi.
Another option is caviar or salmon roe (ikura).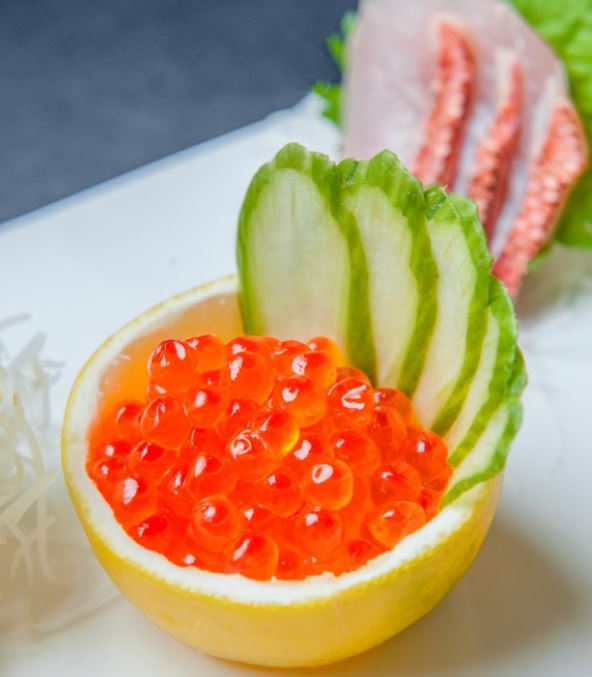 Uni Sashimi: A Rare Delicacy
The most expensive roe-based sashimi is the uni (sea urchin roe). It has a creamy, buttery texture and a sweet, briny flavor. Uni is the edible part of the sea urchin and has to be carefully harvested as the meat tends to fall apart. It is also a seasonal item and so is only available for part of the year, generally late fall and winter.
Osaka Japanese Bistro in Las Vegas for Authentic Japanese Sashimi
With our award-winning staff and authentic, traditional recipes and preparation method, Osaka Japanese Bistro offers the best fresh sashimi outside Japan. As the oldest Japanese restaurant in Las Vegas, we specialize in offering a broad menu as well as carefully selected and hard to find fresh fish from Japan to create authentic tastes and textures hard to find anywhere else. We even offer uni sashimi when it is in season and of the high quality we demand. Our sushi is enjoyed not only in our restaurants, but is the preferred catered sushi at many top Las Vegas casino buffets and restaurants who we supply daily with top quality fresh sushi, as well as sashimi and nigiri selections. For the very best in Japanese cuisine, stop in next time you're in Las Vegas for a plate of fresh sashimi or nigiri and delicious sushi rolls.
https://lasvegas-sushi.com/wp-content/uploads/2018/04/OSAKA-Sashimi-8.jpg
2556
3841
Osaka Japanese Bistro
https://lasvegas-sushi.com/wp-content/uploads/2017/02/OSAKA-LOGO-300x130.png
Osaka Japanese Bistro
2018-04-16 04:00:24
2018-04-13 16:24:55
Learn About Sashimi, the Fresh Japanese Delicacy