Yakitori: Japan's Favorite "Fast Food"?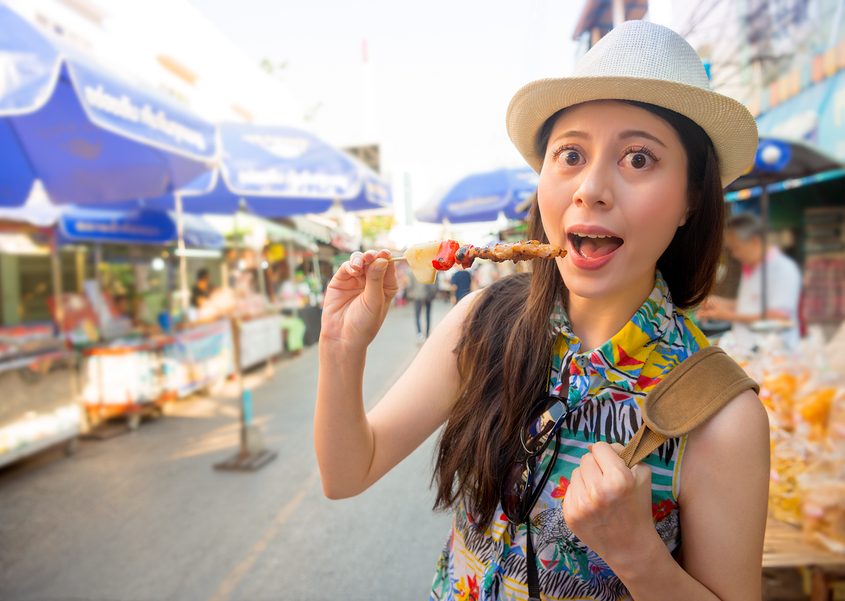 Think: grilled chicken on a skewer. Whether it's early morning or late evening or some time in between, it's the craving you did not know you had. Until now. Yakitori, which basically is the Japanese term for "grilled chicken," is Japan's version of mouth-watering barbecued chicken. Secured on a wooden skewer prior to cooking, the chicken is grilled to perfection a variety of forms.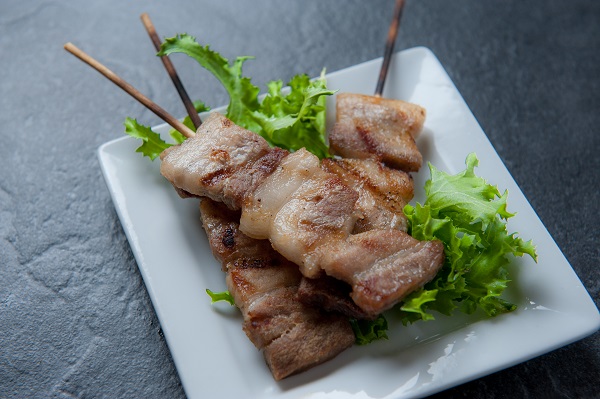 But this gastronomic delight is not just about taste, but  also culture.
Yakitori and Japanese Culture
Chicken was once a luxury in Japan, going back to the Meiji Restoration period, starting around 1868. The Meiji era brought huge change, including change to the Japanese diet – the addition of meat. Chicken meat was regarded as a luxury, and greatly prized.
At the same time, small stalls selling skewered fish and vegetables outside temples were already popular. Capitalizing on the demand for chicken, the first chicken kebab shop was installed outside temples. But chicken was still expensive, and the owners of these small stalls could not afford chicken meat, so they used chicken carcass or gristle they found dumped outside higher-end restaurants. This cheap but tasty version of chicken made via the popular skewering methods became a favorite. The rest is history as they say, and yakitori was cultivated to become a diverse variety of tastes and textures, becoming one of Japan's favorite snacks.
Yakitori in Japan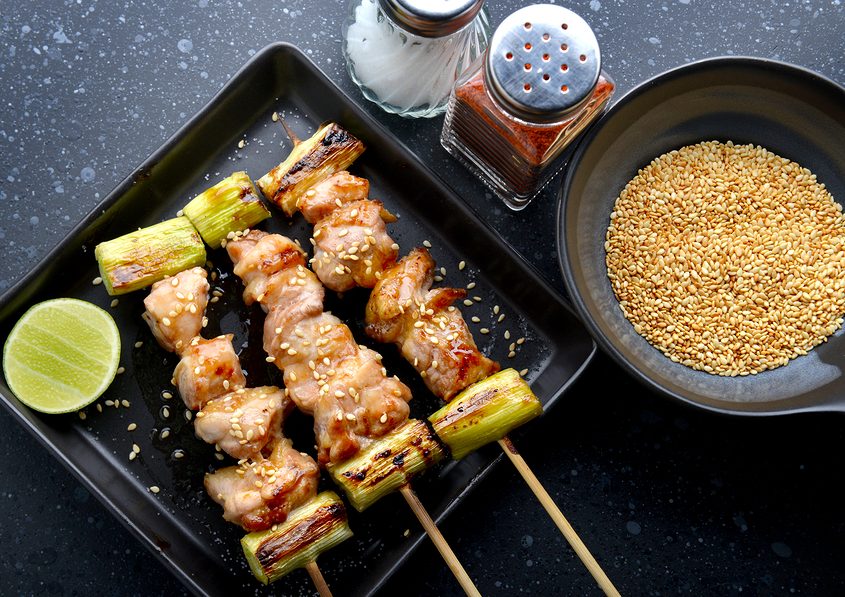 Yakitori in Japan is prepared and enjoyed in various ways today. The kind of yakitori is generally named after the part of the chicken used, from thighs and breast meat to gristle and cartilage to hearts and liver. Some popular types include:
Negima. Pieces of chicken thigh meat skewered and adorned with pieces of leek in between each piece of chicken. Negima is one of the most popular types of yakitori in Japan today.

Momo. This is simply pieces of skewered chicken thigh meat.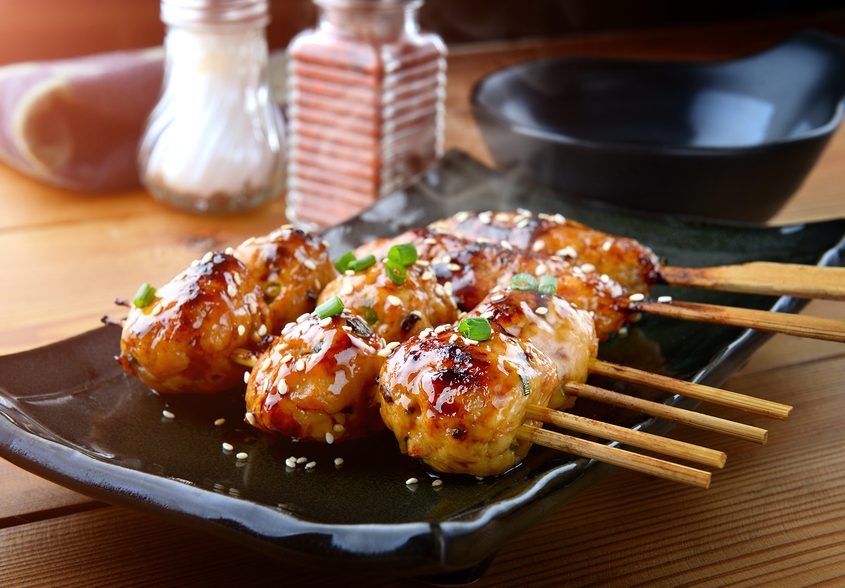 Tsukune. Tsukune is a type of yakitori least reminiscent of yakitori's history, but is popular today in Japan. It is a mix of minced chicken, egg, vegetables and spices skewered on a stick as several small meatballs.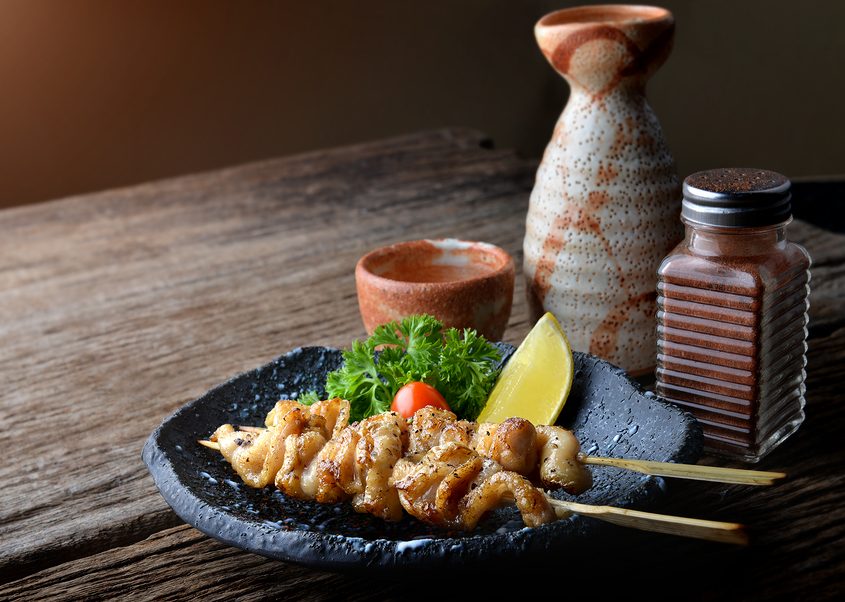 Torikawa. Maybe the most reminiscent of the first grilled chicken in the small stalls outside temples, torikawa are strips of fatty chicken skin grilled until crispy.

Nankotsu. Also reminiscent of the first chicken kebab stalls, nankotsu is skewered, crunchy cartilage with minimal chicken.
Japanese restaurants and their chefs enjoy experimenting with this traditional food with different spices and sauces. But different meats can also be used, like seafood, beef, and pork. In addition to some of these tasty yakitori snacks are other kebabs that complement these chicken kebabs, like asparagus bacon, green onion, shitake mushroom, green peppers, eggplant, and shrimp. Beer and sake are often enjoyed and paired with specific types of yakitori. Traditionally, these kebabs are gilled on a rectangular clay box, only two feet long and a few inches wide. As such, the kebabs are small and delightful, and thus: snack-ish foods. But they can also be grilled using a tabletop hibachi or a teppanyaki grill – those hot steel plates forming the center of a table at many Japanese restaurants.
Enjoy Yakitori at Osaka Japanese Bistro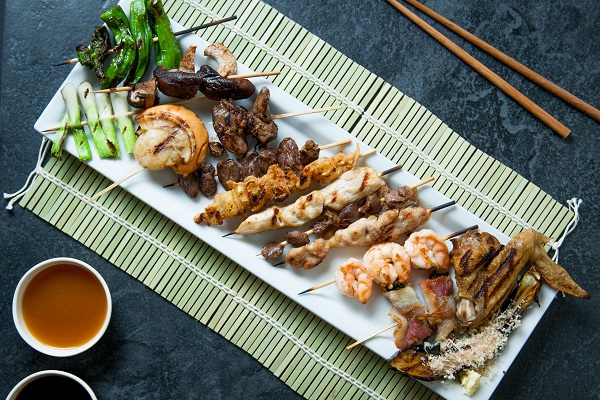 At Osaka Japanese Bistro in Las Vegas we prepare authentic Japanese dishes, using recipes from Japan. Osaka Japanese Bistro provides a Teppan grill menu of all the famous Japanese dishes you could imagine, from sushi to tempura to soba to teriyaki to yakitori. Of course we have an extensive variety of yakitori dishes to tempt your palate. At our teppanyaki grill and on our kitchen menu, you will find a variety of yakitori flavors:
Mi, which is thigh meat… that juicy, meaty part of the chicken.

Shiro Me, which is white meat… that healthier, tastier part of the chicken.

Suna Gimo, which is gizzards… that twisted, chewy part of the chicken.

Reba or kimo, which is the liver… that deep, sumptuous part of the chicken.

Sinzo, which is the heart… that rich and hearty part of the chicken.

Torikawa, which is the skin… that crispy part of the chicken.

Tebasaki, which is the wing… a favorite part among chicken-lovers.
If you are in the mood for something tasty and fun, something that can be either a snack or turned into a meal, then try yakitori. There's nothing quite like it, and it's available close to you at Osaka Japanese Bistro, just off the Strip in Las Vegas and in nearby Henderson, NV. Come in and enjoy today.
https://lasvegas-sushi.com/wp-content/uploads/2018/03/bigstock-Yakitori-Japan-girl-eating-199555369.jpg
601
900
Osaka Japanese Bistro
https://lasvegas-sushi.com/wp-content/uploads/2017/02/OSAKA-LOGO-300x130.png
Osaka Japanese Bistro
2018-03-20 10:06:37
2018-03-20 10:08:46
What is Yakitori?