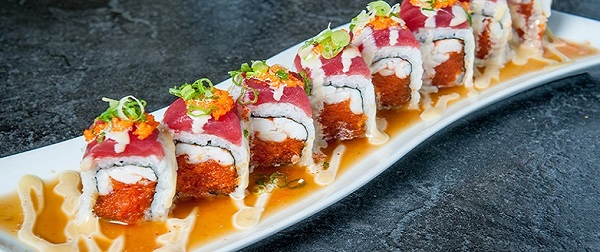 Japanese cuisine is now mainstream and wildly popular throughout this country and much of the world. However, whether you're a seasoned sushi connoisseur or a novice looking to order your first roll, terms on Japanese restaurant menus can be confusing. From nigiri to maki, here's a rundown on the different varieties of sushi you may encounter in Japanese sushi restaurants.
Different Types of Sushi
Simply put, the term sushi in Japanese cuisine describes any dish prepared with vinegared rice. This distinctive and specially prepared sushi rice is combined with a variety of other ingredients. Raw seafood is the most recognized sushi ingredient. However, sushi is also prepared with cooked seafood, vegetables, egg, tropical fruit, and even meat. Sushi is commonly served with soy sauce, pickled ginger, and wasabi (Japanese horseradish).
Sushi was originally prepared by street vendors as a snack food. The bite size pieces were perfect for eating on the go. As sushi rapidly grew in popularity and spread across Japan, different varieties were introduced. Now, sushi-making is an entire art in itself, with hundreds of different varieties of sushi available around the world. But these will all fall into several main categories that you can recognize anywhere you go.
Maki
Maki, or makizushi, literally translates to "rolled sushi". It is what most people envision when the word "sushi" is mentioned. The tube-shaped rolls are created using a bamboo mat referred to as a makisu. Maki is generally wrapped in seaweed (nori), but the seaweed is occasionally replaced by cucumber, soy paper, or shiso leaves. Rice is located directly inside the wrapping, and the filling is in the center. Maki rolls are usually cut into six or eight pieces.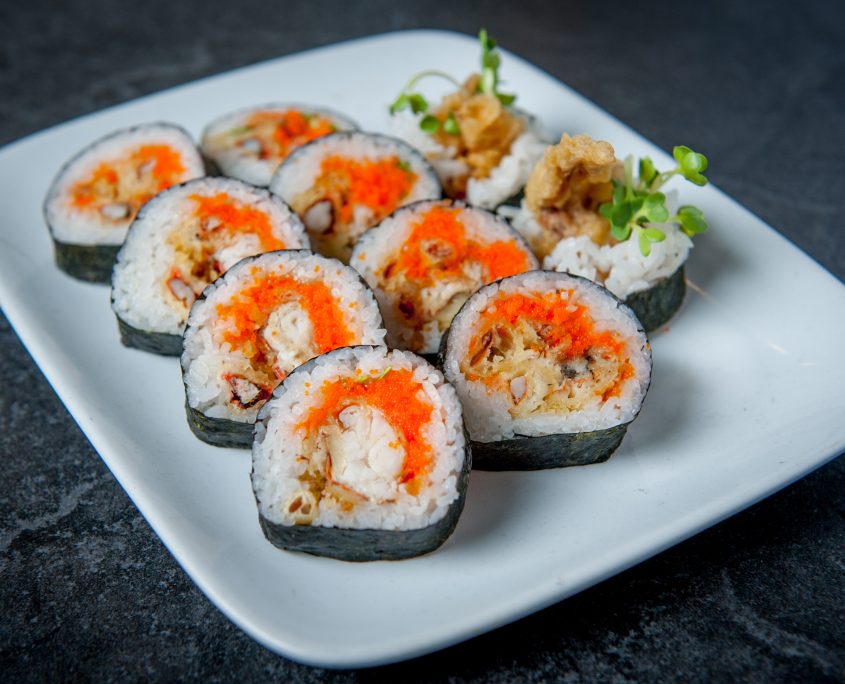 Maki can be broken down into even more specific types:
Futomaki

– Futomaki translates to "large, thick, or fat rolls". Like the name suggests, futomaki sushi rolls are wide (usually 2 to 2.5 inches in diameter). They are filled with multiple fillings, and seaweed is usually on the very outside.

Hosomaki

– Conversely, hosomaki means "thin roll". These maki rolls have one filling, surrounded by rice and seaweed. Tuna and cucumber are some popular fillings in hosomaki sushi. Due to the convenient, bite-sized pieces, hosomakizushi is a popular snack item in Japan.

Temaki

– Temaki means "hand roll". Temaki is a cone-shaped piece of seaweed filled with ingredients that spill out of the wide end of the roll. Temaki is eaten by hand and should be consumed relatively quickly, as the seaweed absorbs moisture from the inside ingredients and becomes soggy.

Uramaki

– Uramaki translates to "inside-out roll". This Westernized sushi variety differs from traditional maki in that the seaweed is inside the roll and rice is on the outside. The common California Roll is an example of uramaki sushi. In Japan, where sushi is traditionally eaten by hand, this maki variety is rather uncommon.
Nigiri
Nigiri, or nigirizushi, means "hand-pressed roll". It is the most traditional sushi type. Nigiri consists of an elongated mound of sushi rice that has been hand pressed by the chef. The mound of rice is then draped with a single topping. Some common toppings are tuna (maguro), salmon (sake), octopus (tako), freshwater eel (unagi), and egg (tamago). A small amount of wasabi is oftentimes placed under the topping. In most restaurants, including Osaka Japanese Bistro, one order of nigiri is two pieces.
Gunkanmaki is a type of nigirizushi that has a piece of seaweed surrounding the perimeter. This strip of seaweed helps contain a loose or soft topping, such as sea urchin (uni) or salmon roe (ikura).
Chirashi
Chirashi, or chirashizushi, means "scattered sushi". It is a bowl filled with sushi rice and a variety of different toppings. Toppings generally include raw fish and vegetables. Chirashi sushi is popular in Japan, because it is filling and comparatively easy to prepare.
Sashimi
While not technically sushi, sashimi is on most Japanese menus near the sushi. Sashimi is simply fresh, raw fish or meat cut into thin slices. Sashimi is not served directly with rice, but it is often served over a garnishment, such as shredded white radish (daikon) and/or shredded carrot. Like sushi, sashimi is eaten with soy sauce and wasabi. While it is considered appropriate to eat sushi by hand, it is proper to eat sashimi with chopsticks. There is a lot to know about sushi, as there is about Japanese cuisine, but with some basic knowledge you'll be able to find your way through just about any sushi menu.
Find the Best Sushi at Osaka Japanese Bistro in Las Vegas
Osaka Japanese Bistro was the first Japanese restaurant in Las Vegas. Based on authentic Japanese recipes and never compromising quality, we have become the largest sushi-maker in Las Vegas, serving everyone from our guests in our restaurants in Las Vegas and Henderson as well as many of the food buffets up and down the Las Vegas Strip. With our award winning chefs and large selection of sushi, including maki, chirashi, nigiri and sashimi, you could say we know sushi.  Stop by Osaka today and enjoy the best fresh sushi in town.
https://lasvegas-sushi.com/wp-content/uploads/2017/01/Sushi-plate.jpg
252
600
Osaka Japanese Bistro
https://lasvegas-sushi.com/wp-content/uploads/2017/02/OSAKA-LOGO-300x130.png
Osaka Japanese Bistro
2017-08-21 05:00:43
2017-12-18 16:32:48
What are the Different Types of Sushi?