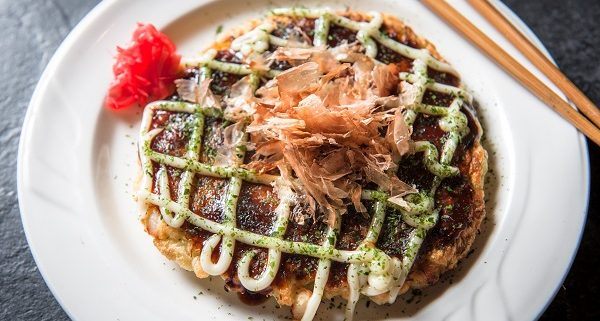 At first glance, okonomiyaki seems like a cross between a breakfast pancake and New York pizza with mayo sauce. A little strange, right? While the okonomiyaki seems out of the ordinary to first-timers, those that have tried okonomiyaki can all agree that this iconic Japanese street food is delicious. If you can get over the look, okonomiyaki may certainly become your favorite in Japanese cuisine.
There are two popular styles of okonomiyaki: Kansai-style and Hiroshima-style. The biggest difference between the two is the cooking procedure. With Kansai okonomiyaki, the batter and the ingredients are cooked together. The batter and ingredients are cooked separately with Hiroshima-style okonomiyaki. Both are very delicious and are worth trying!
This iconic dish is widely popular in Japan, especially in Osaka where street food has a rich history. Of course, okonomiyaki is available at Osaka Japanese Bistro here in Las Vegas. Okonomiyaki is served in several different ways, but usually has toppings of seafood, veggies, and meat. Feel free to customize the dish however you desire!
If you'd like to taste okonomiyaki, come and try it at Osaka Japanese Bistro today!
https://lasvegas-sushi.com/wp-content/uploads/2017/01/OSAKA-7551.jpg
399
600
Ben Kang
https://lasvegas-sushi.com/wp-content/uploads/2017/02/OSAKA-LOGO-300x130.png
Ben Kang
2019-08-23 18:10:52
2019-08-23 18:13:25
Let's Get Some Okonomiyaki!