Enjoy Japanese Noodles in Las Vegas
What's on the menu at Osaka Japanese Bistro in Las Vegas? A big bowl of Udon!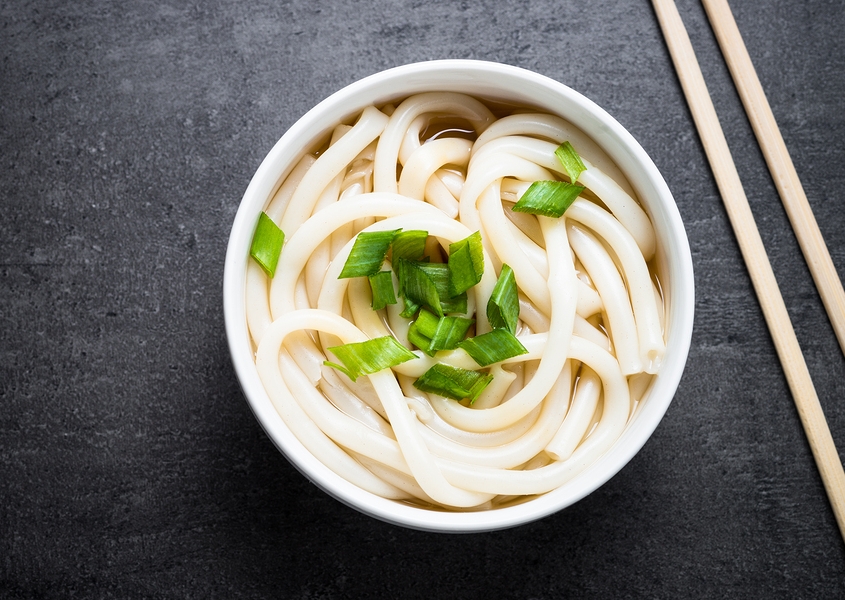 What is Udon?
Udon is a thick, elongated Japanese noodle made with wheat flour. Its neutral flavor lends itself well to flavorful additions, such as soy sauce, chili pepper, sesame, ginger and scallions. Sounds simple, but udon noodles are one of the most popular noodles in Japan for very good reason! When properly seasoned, udon noodles are deliciously satisfying!
Why Choose Udon?
There are so many delectable Japanese noodles, so why choose a big bowl of udon when you visit Osaka Japanese Bistro in Las Vegas? Like much Japanese cuisine, udon noodles provide an abundance of health benefits that make them a wonderful source of nutrients. For starters, udon noodles provide complex carbohydrates. These are the "good" kind, which are processed slowly by your metabolism. This means that you will feel satisfied longer, which helps prevent overeating. Complex carbohydrates like udon noodles also aid in digestion of other foods, which is good for your digestive health. Udon noodles are rich in Vitamin B, including thiamine, riboflavin, niacin and folate. These vitamins help reduce stress and promote overall better health.
How Did Udon Noodles Originate?
Well, that depends upon whom you ask. One thing we know for sure is that the Japanese have been eating udon noodles for centuries, as part of their daily diet. Flour noodles probably originated in China and were introduced to Japan and were known as muginawa. One story claims that a Buddhist priest name Kukai introduced udon noodles in the Heian period. Another story claims that they were discovered by a Japanese envoy during the Nara era. Wherever they came from, we are proud and happy to serve them at Osaka Japanese Bistro in Las Vegas!
How are Udon Noodles Served?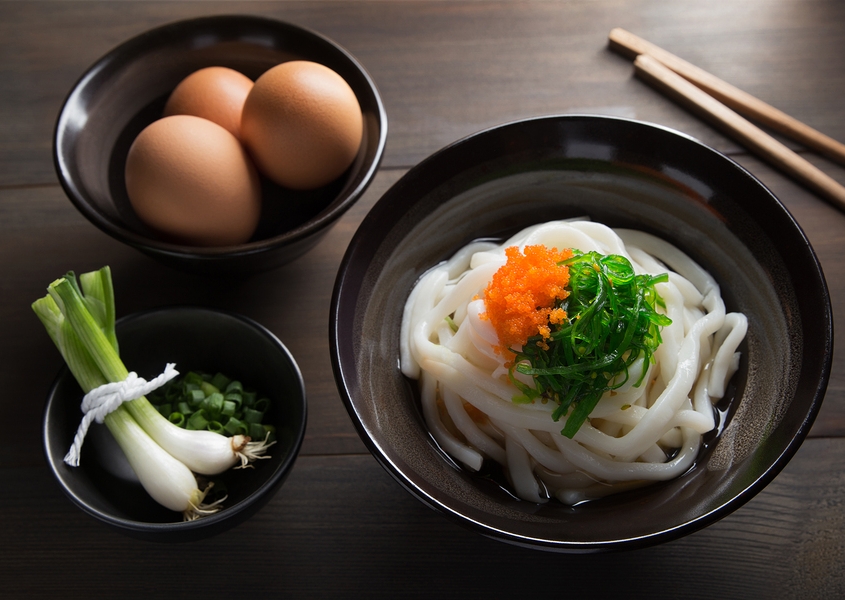 Traditionally, udon noodles are served chilled in summer and warmed in winter. Either way, they are equally delicious! Because udon noodles absorb the flavors that surround them, they are commonly served with a warm seasoned broth mixture. First, the udon noodles are placed in the warmed bowl. Then a specially flavored broth is poured over them. To enjoy, you may use chopsticks or a fork to "capture" the noodles. Then tip the bowl to enjoy the flavored broth like a soup.
Japanese Noodles Served Hot or Cold at Osaka Japanese Bistro in Las Vegas
Udon noodles are perfect as a light lunch, or when you wish to have a healthy meal on the go. Udon noodles are not fast food in any sense, but at Osaka Japanese Bistro in Las Vegas we always have prepared udon noodles on hand for busy customers.
Are you ready to try udon noodles? We can't wait to see you at Osaka Japanese Bistro in Las Vegas!
You will also find a huge selection of Japanese dishes that includes sushi, sashimi and teppanyaki specialties. Contact us today for a reservation or to order online!
https://lasvegas-sushi.com/wp-content/uploads/2018/05/bigstock-udon-203123893.jpg
600
900
Osaka Japanese Bistro
https://lasvegas-sushi.com/wp-content/uploads/2017/02/OSAKA-LOGO-300x130.png
Osaka Japanese Bistro
2018-05-21 04:00:08
2018-09-28 14:56:29
A Big Bowl of Udon Noodles