Potatoes, grains, corn/maize, all food staples that meet the basic needs of nutrition for millions of people around the world. While a bowl of rice may not be as appealing as filet mignon, and is often associated with poverty, when artfully combined with fish and seaweed by a trained master, even the well-to-do will enjoy it. Sushi is among the simplest foods available, consisting generally of raw fish, rice, seaweed, and occasionally sauces or vegetables added in. It is this simplicity that many find appealing, and it is rare that such a simple food option is also healthy to eat!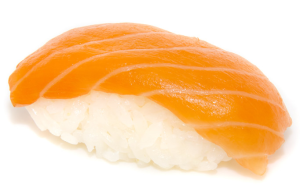 As any of our Osaka chefs know, sushi is an art form, simple to learn, difficult to master. What may look like just another California roll to you is in fact the masterpiece of a trained Itamae, or sushi chef. It takes years upon years of training to become an itamae, turning the food staples of fish, seaweed, and rice into a delicacy that's loved worldwide. Even the simplest part of the dish- the rice, isn't so simple. An apprentice sushi chef is first trained in properly preparing rice, which must be made to a very specific consistency, and the apprentice must be able to prove they are able to do this each and every time.
Rice preparation is just the beginning, however, and an apprentice's journey is long. They may be promoted, upon proven their skill with rice, and will move to a position called Wakiita, or "close to the cutting board." As Wakiita, the apprentice takes on the responsibility of preparing other ingredients such as preparing the fish, slicing vegetables, and grating ginger for the Itamae to assemble into a full sushi roll. With hard work and practice, the sushi apprentice may finally be promoted to full Itamae, and be given the privilege to turn the simple staples of rice, fish, and seaweed into something special.
In Japan, Sushi is an art form, and it takes anywhere from 2 to 20 years to become a fully-trained Itamae. Sushi is known and loved by many around the world; it is the simplicity of its nature that allows for the quality of the chef's skills to flourish. At Osaka Japanese Bistro in Las Vegas, all of our sushi chefs are top-notch, with award-winning chefs including world famous Shingo "Shin" Aihara. Reserve a table today and taste perfection!
https://lasvegas-sushi.com/wp-content/uploads/2017/02/OSAKA-LOGO-300x130.png
0
0
Osaka Japanese Bistro
https://lasvegas-sushi.com/wp-content/uploads/2017/02/OSAKA-LOGO-300x130.png
Osaka Japanese Bistro
2014-08-28 14:51:41
2014-11-24 10:50:19
Sushi: The Art of Simplicity